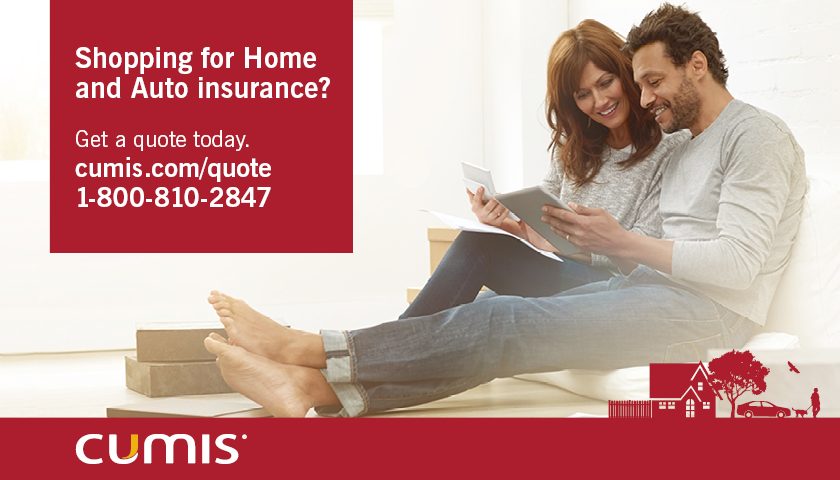 As our member, you can save on your insurance
Enjoy exclusive savings – up to 55% – when you bundle your Home and Auto coverage with CUMIS, our loyal insurance partner.
As a good driver, a responsible homeowner and a valued credit union member, you should be rewarded. That's why we've teamed up with CUMIS. Take advantage of the preferred member rates, quality coverage and straightforward claims process you deserve.
Why choose CUMIS? Serving approximately 85% of credit unions and caisses populaires across the country, they provide insurance and investment solutions – along with exceptional service – to more than five million members. Here's why CUMIS is the top choice for Home and Auto insurance among Canadian credit union members: 
Comprehensive coverage
You'll enjoy all the protection you expect from your insurance, as well as additional benefits!
Home insurance
Home Claims Forgiveness, which means that your first home claim has no impact on your policy or premiums.
Disappearing Deductible, which reduces your home deductible by $100 each year, until it disappears.
Claims-Free Rate when you are claims-free for three years.
Identity-theft protection for expenses you incur to recover your identity – with no deductible, no impact to your claims-free discount, and no additional costs.
Legal Assistance Helpline, where lawyers provide free, on-demand guidance around Canadian legal matters. 
Auto insurance
Accident Forgiveness, which excuses your first at-fault accident to protect your driving record and to keep your premium low.
Claims-Free Rate when you are claims-free for three years.
Additional bundling options offering more savings and more coverage, including rental-vehicle liability and emergency roadside assistance.
Claims Guarantee
With CUMIS, you can review your options before you make a claim, without fear of consequences or premium increases if you choose not to proceed. You'll also have access to a one-of-a-kind service review panel, which ensures fair solutions to disputed claims and other complaints.
Ready to be rewarded?
Call 1-800-810-2847 to speak with a Licensed Insurance Representative. Or visit the CUMIS website to get your QuickQuote in as little as 30 seconds!
Some conditions apply. CUMIS® is a registered trademark of CUMIS Insurance Society, Inc., and is used with permission. Home and Auto insurance is underwritten by CUMIS General Insurance Company, administered by Co-operators General Insurance Company. Not all products available in all provinces, and rates, coverage and eligibility may vary. CUMIS General Insurance Company and Co-operators General Insurance Company are committed to protecting the privacy, confidentiality, accuracy and security of the personal information that we collect, use, retain and disclose in the course of conducting our business. Please refer to our privacy policy for more information. To contact CUMIS, please visit www.cumis.com or call 1-800-263-9120.